Ready for a much-needed weekend getaway? Hoping to avoid traffic while road tripping to your Labor Day destination? Amidst a record-high amount of summer vacationers on the road, we've comprised a list of best-practices for your upcoming road trip to help you get the best bang for your buck (and save you some time). Here are 4 tips to keep in mind while planning any road trip:
1. Map out your road trip
When it comes to planning a trip, a little preliminary research goes a long way. Figuring out the best time to leave and typical traffic patterns are great ways to help you dodge heavy traffic, whether that means mapping out your journey on paper or plotting the route mentally. Use our app or Google to find ideal driving times and cities that might be worth a stop along the way. For example, if you're headed up to DC for the weekend from Charlotte, NC, why not skip standstill 5 o'clock traffic by picnicking at Prince William Forest Park? Or why not snap a family picture at the World's Tallest Thermometer in Baker, CA?
Planning a trip in advance gives you the ability to be creative and make memories even before you reach your destination.
How to plan a trip using our myRewards PlusTM App
Road tripping just got a whole lot easier with our myRewards PlusTM App, which has a search function to assist in planning a trip anywhere across the country. Here's how you can plan a road trip through our app:
Download or log into the Pilot Flying J myRewards PlusTM App
First, download or log into our app, which features all sorts of deals and discounts on gas and beverages. In fact, through October 31, app users can save 10 cents for every gas gallon at the pump.
Select "Find" at the bottom of the screen
Once you're logged in to the app, you'll see the "Find" button at the bottom left of your screen. Click that, which will take you to our North American map.
Type your destination in the search function
At the top of the screen, you'll see a magnified glass icon with the prompt, "Where are you going today?" Type in your road trip destination, which will take you to the "plan your trip" function.
The "Plan Trip" button will prompt you to choose a starting point and destination. Fill out that information, then select the "Continue" button at the bottom of the screen for the map to route accordingly.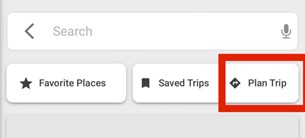 Route your trip
The map will show you your route, with any Pilot or Flying J locations that are along the way. You can find information on current gas prices, restaurants, and even the exit number for any travel center you might want to stop at.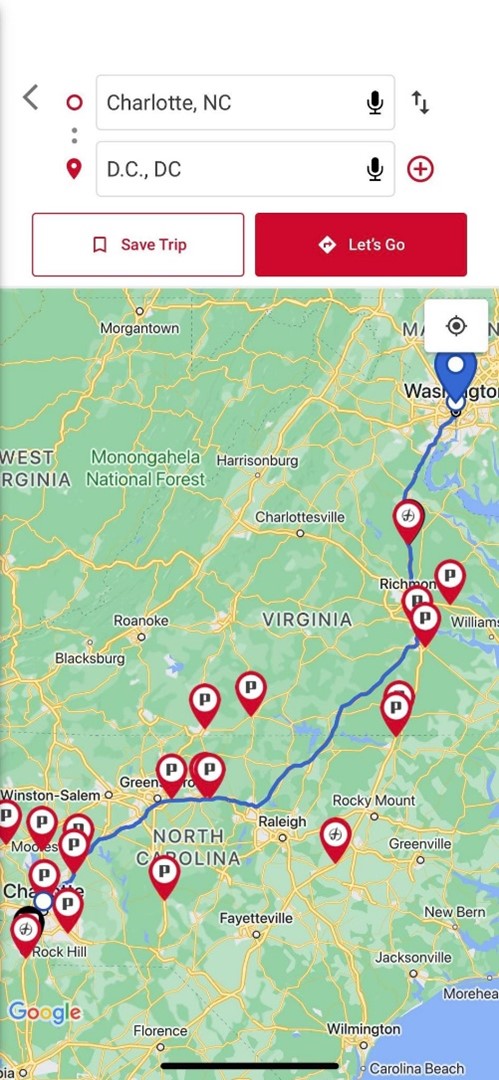 Save your upcoming trip for when it's time to hit the road
Once you've finalized your route and where you might want to stop along the way, click the "Save Trip" button at the top left of the screen. This confirmation should then pop up: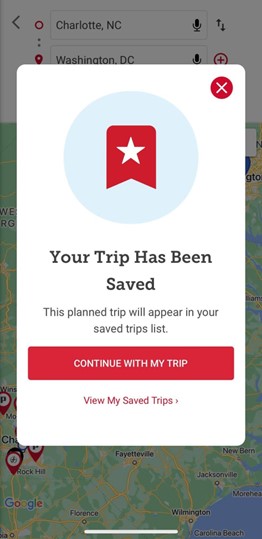 Voila! Your next road tripping adventure is all set.
---
2. Safety is key
Once you've planned your trip, it's important to make sure your vehicle is in tip-top shape for the trek ahead. Have a maintenance check, making sure your oil, fluids, tires, and lights are all working properly. Is your spare still in the back? Are both jumper cables in the vehicle? Check for any emergency necessities should anything happen on your road trip, and make sure to have your AAA information or other roadside service on hand.
---
3. Make your road-tripping travels comfortable
When it comes to road tripping, comfort matters. Whether you're driving with kids or headed out solo, a well-rested night of sleep and a quick pit stop for some amazing coffee goes a long way.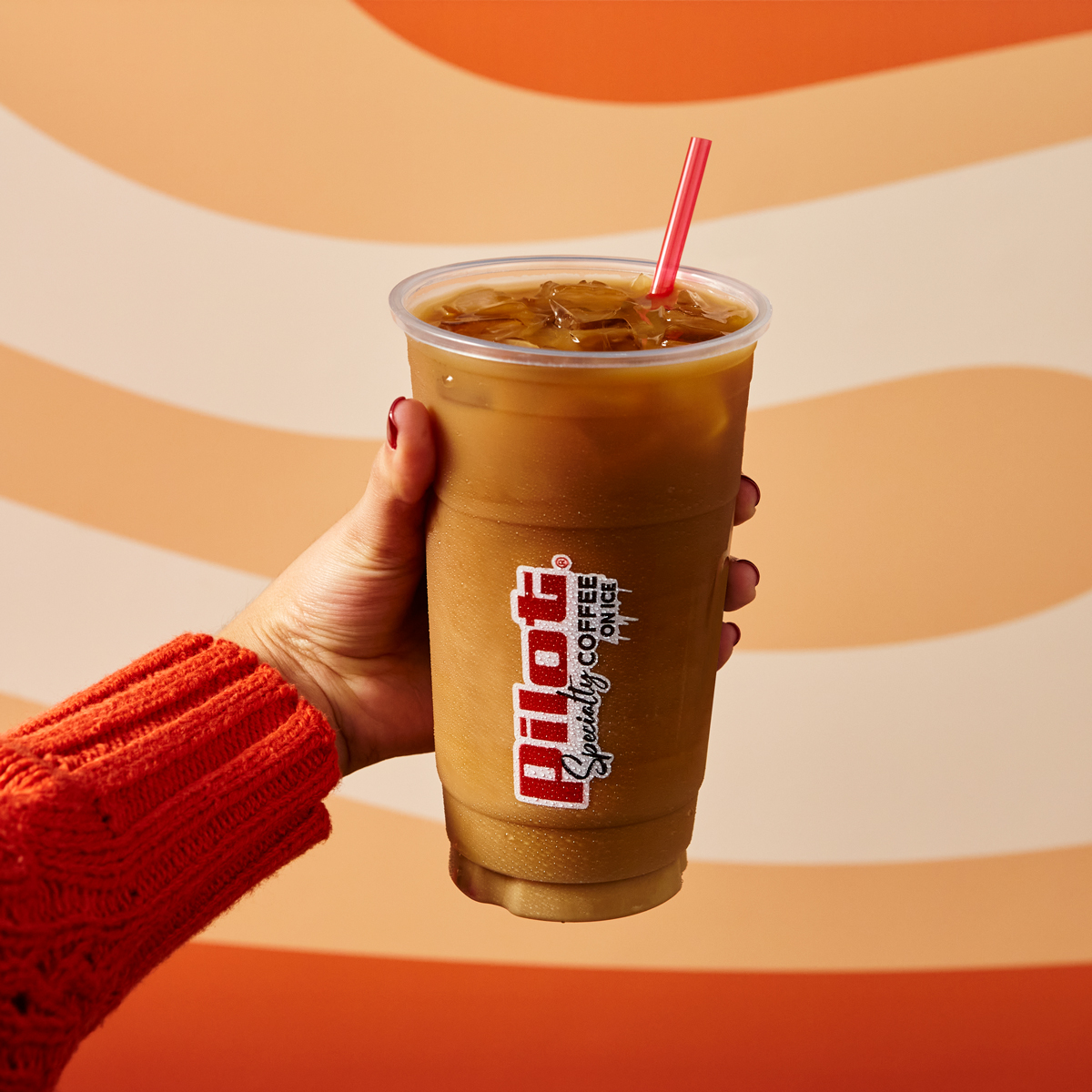 Our stores are ready to serve you however you might need, from staple road trip snacks to a quick load of laundry to free Wi-Fi that'll help you download that random show your kid's been asking for in the backseat.
Our team is working hard to make stopping with us an even better experience through our New Horizons initiative, a store modernization project that'll help remodel more than 450 of our stores across North America.
---
4. Every stop counts
"Are we there yet?"
"…Are we close?"
"…How far are we?"
Road tripping with kids can be challenging. And let's face it: bathroom breaks and pit stops for snacks and fuel are inevitable. So why not make every stop count? Kill two, three, or even four birds with one stone by stopping at a place that has it all. You can save both time and money through our myRewards PlusTM app, which can help you find the quickest Pilot and Flying J travel center, offer discounts on your favorite snacks, and help you stock up on other travel necessities (think car chargers and sunglasses). And don't forget about our 10-cent gas discount you can use any time you fill up with us through October 31!
---
Enjoy the open road
Getting there's half the fun! Let the journey and unexpected pit stops at roadside attractions be a part of your road trip. These are some of the best memories you can make with your family. Headed anywhere exciting? Visit our Facebook page and share your next road trip destination with us!