Saving while on the road just got even easier! Now through December 31, you can save 10 cents on every gallon of gas using the myRewards PlusTM app. And to help you go even further, we're offering more great deals in the app to save in-store on your favorite items.
"Whether you're driving cross country or running errands, we know that every stop counts," said Shameek Konar, CEO of Pilot Company. "We are always looking to help our guests maximize their trips and know that saving money goes a long way, which is why we're introducing a new gas discount and more deals on everything from fuel to snacks to make their journeys go further."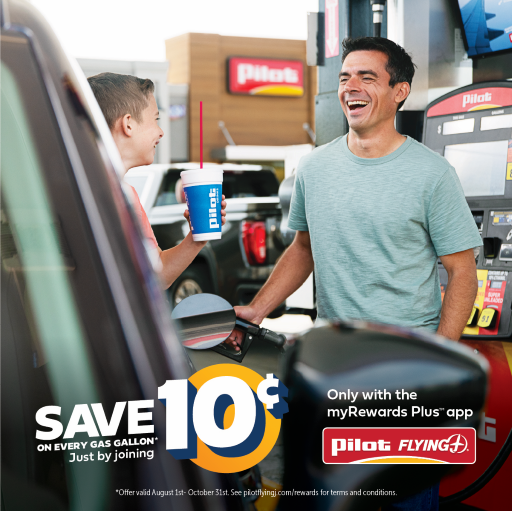 Here's how to redeem your 10-cent gas discount at our travel centers*:
Step One: Download our myRewards PlusTM App
Our app houses all sorts of sweet deals and discounts, including this newly rolled out gas discount. Become a myRewardsTM Plus member and save all year long with exclusive daily and weekly in-app offers on your favorite food and drinks, and have access to sweepstakes with prize packages from top brands. If you're new with us, you'll also receive special offers just as a way for us to say, "Thanks for joining!"
Step Two: Register And/Or Log Into Your Account
If you're already a member of myRewards PlusTM, just log in to start saving. New to the app? Creating an account is easy and just takes a few minutes, then you'll be on your way to saving more at every stop.
Step Three: Scan Or Enter Your Rewards Number BEFORE fueling
Once you've logged into your account and are in the app, follow these simple steps to scan or enter your myRewardsTM number before fueling.
1. Swipe your credit/debit payment card at the pump.
2. When the pump prompts for your myRewardsTM card, you can either:
Scan the barcode in the Rewards tab of the app using your phone or the barcode on the back of your card at the reader on the pump.
Type in your myRewards PlusTM number or phone number associated with your loyalty account instead. You can only enter your phone number if you only have one loyalty card tied to your account. To locate your loyalty number, open the app and go to Rewards to view the number under the barcode.
3. The discount will be applied, and the pump price will roll back.
You can also pre-pay in the store, including cash transactions. Just scan the barcode using your phone or loyalty card before completing your purchase.
And did you know we offer Mobile Fueling? You can save even more time using the myRewards PlusTM app. To use Mobile Fueling:
As a logged in app auto user, select Fuel from the home screen.
Add payment card if necessary and answer the prompts in the app.
Enter the 6-digit code in the pump and start fueling. The discount will be applied.
Step Four: Keep Saving With Us!
There's no limit on how much you can save with our new 10-cent gas discount. No matter how much or how often you fuel with us, you can use the myRewards PlusTM app to save 10 cents on every gallon of gas through December 31. And don't forget to check out the deals in the app – there are new offers daily and weekly to save you more on the products you love.
To learn more about our myRewards PlusTM app and how you can save even more while traveling, visit pilotyflyingj.com/rewards.
*Data rates may apply. Participating locations only. Void where prohibited (not valid in Wisconsin and New Jersey). Other terms and conditions may apply. Visit pilotflyingj.com/rewards for details.