We are incredibly grateful for the brave men and women who've fought to protect our great country.
To celebrate the many wonderful veterans and to show our gratitude, this week all U.S. veterans are invited to enjoy a free breakfast and coffee on us. The Veterans Day Breakfast Combo offer includes a Pilot Coffee of any size and one free breakfast offering, such as our delicious french toast bacon, egg and cheese sandwich. Open the Pilot Flying J app to find the breakfast offer for Veterans Day and visit any participating Pilot or Flying J travel center in the U.S. to redeem and enjoy.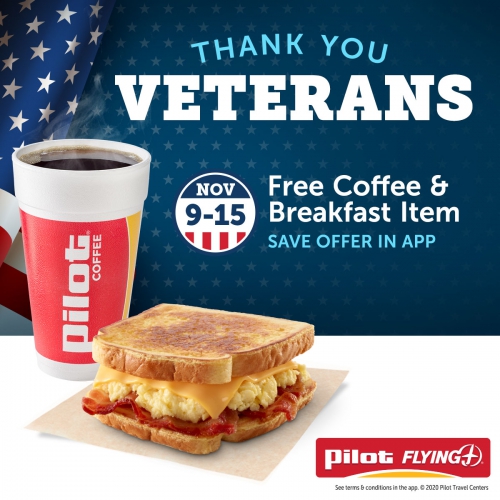 We are honored to serve the many wonderful veterans that come into our stores each day around the country. One of our veteran guests, Mark from Knoxville, TN, has been visiting our stores daily, three times a day to be exact, to get his favorite Pilot coffee since moving to Knoxville 15 years ago. "It's always fresh. I was hooked when the (bean to cup) machines were put in!" His favorite bean to cup coffee is the Sumatra blend.
We love getting to know our guests by hearing their stories and thought we'd share a little bit about Mark in recognition of his honorable service.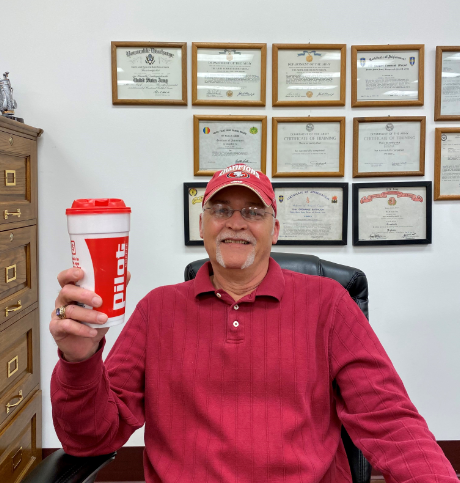 Mark served as a 55B Ammunition Specialist for six years, three years active and three years reserve. During his time in the military, he received many citations including Honorable Discharge, Army Commendation Medal for meritorious service in the Material Section, Headquarters 101st Ordnance Battalion, 2nd Support Command, for his role in Return of Forces Reforger "Certain Fury" exercise while in Germany, Army Achievement Medal for Perfect Qualification M16 and 45 "Expert."
After returning home, Mark attended college and then begin working at Tri-Cities Regional Airport ground handling 727 Air Cargo planes. He credits the work ethic and perseverance he learned in the military to his continued successes entering into civilian workforce.
"The skills you acquire in the military can apply to any area in the civilian work environment. Don't limit yourself," said Mark.
Mark says he will be joining us again this year to enjoy his Veterans Day free coffee and breakfast. "I always look forward to getting my free coffee on Veterans Day. Salute to my fellow veteran, friend and Pilot employee Rodney, along with all other Pilot veterans!"
To echo Mark's salute to his fellow veterans, we also want to recognize our veteran team members for their service and incredible talents that they bring to our stores and offices around the country. Thank you for all you have done and continue to do!
It's on behalf of our veteran team members and guests that we are committed to giving back to support veterans and their families in their transition back to civilian life through education and employment. Right now, we are raising funds to help Wreaths Across America meet their goal to place 2.2 million wreaths on veteran graves this holiday season. Visit any of our travel centers to round-up your purchase and contribute to the cause.
Thank you to all veterans for your service!