Our Heart Month round-up campaign is in full swing at our participating stores across North America. From paper hearts to on-site CPR classes at our headquarters in Knoxville, Tennessee, we've dedicated "our why" to our team members who are at the heart of Pilot.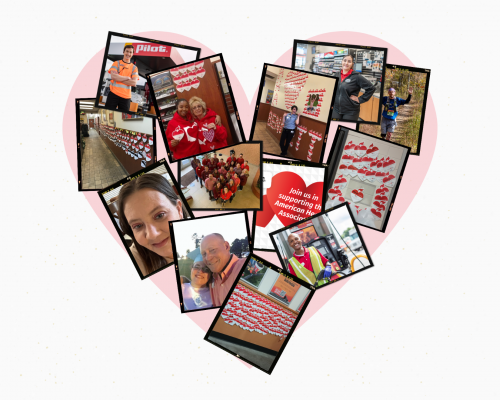 Check out the following stories from Pilot team members on why Heart Month is especially meaningful for them:
---
Hannah Lewis
"My son Bennett was born with a rare and critical heart defect called Hypoplastic Left Heart Syndrome. Basically, he only has half of his heart. At 6 days old, he had his first open-heart surgery. He spent nearly his first year of his life in the hospital where he suffered a stroke, brain bleeds, seizures, two more open-heart surgeries, multiple other surgeries and he went into cardiac arrest. After he turned two, he had two more open heart surgeries, totaling in at five. That hospital stay became a long one as well, where he suffered a serious staph infection called MRSA, and went into severe heart failure.
By God's grace, he grew stronger every day.
In November of 2021, Bennett had routine lab work done, which revealed some concerning high numbers that reflected his heart function. Shortly after his 10th birthday, we learned that Bennett's heart was running out of time. The doctor said we had a good year left, and to do as much as we could with him, but that he was going to request an evaluation for a heart transplant. I remember asking if he thought they would approve him, and while he could not speak for what the transplant team would decide, he told me he thought Bennett had a pretty good chance to be approved. In April 2022, we had our first big day of evaluation. It was a long process that took two trips to Vanderbilt. The next month, we were given the news that he was approved! By the end of June, he was officially listed. We got the call a lot sooner than we had ever imagined: three weeks and one day after being listed, we got the call that they had a match for Bennett. On July 9th, Bennett received his gift, with his surgery ending in the early hours of the morning on July 10th.
We have reached the 6-month mark and his new heart has been doing wonderfully. We have so much to be thankful for. We are thankful for God first, the donor family, his surgeons, and the transplant team/community. We are thankful for our friends, families, and coworkers who have supported us along the way and have been there for us through some of our most difficult days.
What makes me #PilotProud during Heart Month is the support I have received every step of the way since I joined the company. Even at the beginning, I knew I had love and support. I needed to be out of work quite a bit during the first few months for his transplant and I never once felt worried about my job. I knew it would be waiting for me when I returned."
---
Darin Klotzsche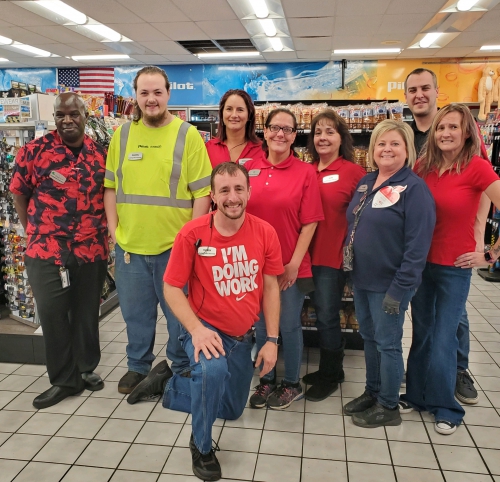 "When I pulled into my apartment complex after lunch with my family on July 17, 2016, I suddenly felt like someone turned a fire hose on in me. I began to sweat profusely and grew very nauseous as I parked outside my apartment. I felt dizzy and started to cough. With every cough, I felt relief, which reminded me of an instance years ago when someone had told me to fake cough if I ever had a heart attack – that it would help relieve symptoms. At that moment, I knew I was having a heart attack.
My wife drove me to the hospital, where I found out I was having a massive widow-maker heart attack. I received one stent and a new lease on life. I have immersed myself into woodworking, nature, and recently became a distance trail-runner. I try to watch my diet, get my steps in, and log some major miles on the trails. I am grateful for a new lease on life and for those people that helped save my life. I have learned CPR, and have taken on a whole new approach to how I react to life's situations. My new motto is, "Begin each day with a grateful heart!"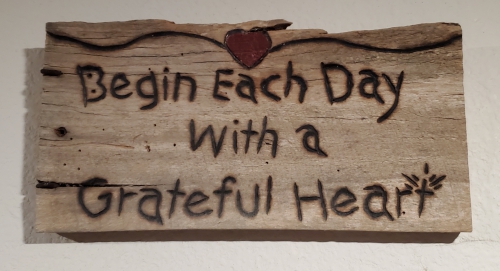 ---
Patrick Brock
"I have been running as a volunteer fire and rescue member in my hometown since I was 16 years old, and served in law enforcement for close to 20 years before coming to work at Pilot. I first became CPR certified in 1984 and have maintained that certification to this very day. No fewer than ten times in the past 36 years have I had to use CPR, and 7 of those times were successful! I am proud I took the time to get CPR-certified and then recertify when it expired and urge you to take the time to learn how, too.  Everyone deserves the best chance at living to see another day, and that chance may very well come in the form of YOU!!!!"
---
Andrea Stratton
"On January 2, 2023, I was at work like any normal day handling registers. I went on my lunch break, but wasn't feeling well. I was having severe chest pains climbing up in to my neck. I decided to go for a walk, in hopes I would feel better, which did not work. I suddenly got very nauseous and told my manager I needed help. He ended up calling 9-1-1 and I was soon transported to the nearest hospital. It turned out, I had a minor heart attack! I found out at that time that I had a genetic heart condition and had to take four days off for my hospital stay and an extra day to recover, but am proud to say I'm now back at work on medication management. I've since made a few dietary changes, like eating healthier and limiting my salt intake. 
My encouragement to everyone out there is to remain cognizant of what your body is telling you. If you think something's off, don't push that feeling to the side – do something about it."
---
Crystal Aytes
"At 48, my mother had a massive heart attack, just as her father did 20 years before. It was a day that changed my life and outlook on heart health forever. Thanks to all of the cutting-edge research & advancement in treatment, she survived.
The American Heart Association has done so much to educate and help more people survive. My mother always wears red during the month of February so she can celebrate the fact that she is a survivor. I am proud that Pilot supports the growth and celebrates the victories of the American Heart Association all while giving back for the cause."
---
Stay tuned for more heart-health advice from experts at American Heart Association this month, and don't forget support the life-saving work of AHA and HSF by stopping at one of our participating stores to grab a paper heart or round-up your purchase to the nearest whole dollar!