In trucking, there are many types of professional driving jobs and trucks to haul all the goods that we need. Pilot's very own fleet of nearly 2,000 drivers makes sure that our stores have the fuel and DEF to keep everyone moving, and we can't thank them enough!
It takes an incredible team of dedicated drivers and logistics experts to make sure our travel centers are supplied with all the types of fuels that professional drivers and guests need to continue their journeys. Just like many of their fellow haulers, Pilot's drivers keep on trucking through it all – doing what it takes to help in tough situations, such as prepping and recovery efforts for severe events like hurricanes.
We immensely appreciate our Pilot drivers for their hard work and dedication to keeping us all fueled. In honor of Driver Appreciation Month, we caught up with a few of our own drivers to learn more about them and share any advice for the road. Read their stories below.
---
Philippe Chagnon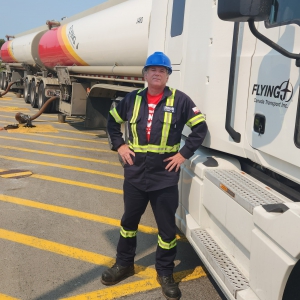 Philippe Chagnon, out of Montreal, Canada, has been driving for 30 years and recently joined the Pilot team. Philippe's father was in the United Nations, so he and his family traveled a lot when he was a child and a young adult. He said, "traveling has always been in my blood," so he naturally took to being a driver.
What does he love about being a Pilot driver?
Philippe enjoys working at Pilot due to the good work conditions and flexibility, and he appreciates that his days aren't all the same and that he is home at night. He likes the responsibility of having a mission, accomplishing the job, and doing it well.  Philippe says he is proud of what he does and how he helps people in their daily lives.
What advice do you have for other drivers?
"Don't rush, be thoughtful, and take it easy – you should always take time for safety, as that makes for an overall better day," says Philippe.
To other drivers, Philippe says, "Thank you for your professionalism. I appreciate safe and courteous drivers who accommodate others. Thanks for being out there."
---
Chris Newton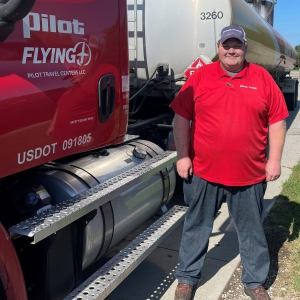 Chris Newton, based out of Louisville, Kentucky, has been a Pilot driver for nearly 10 years. He decided to get his CDL and joined the industry after a few years of agricultural work.
What does he love about being a Pilot driver?
Chris says he enjoys working at Pilot because he can plan his day out and it makes it feel like a 9 to 5 job. He also appreciates the Pilot team that supports him every day and he likes knowing exactly what he needs to do to get the job done.
Chris says, "Helping the country move and playing a part in that is rewarding."
 
His advice to other drivers?
"Slow down and enjoy the job, being in a hurry is what makes drivers frustrated, so you just need to slow down and enjoy it."
---
Celesta Dickerson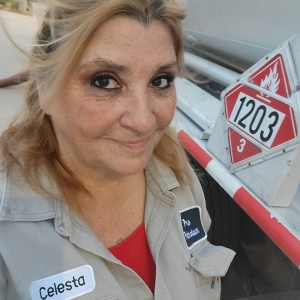 Celesta Dickerson, out of Lubbock, Texas, recently joined the Pilot team with 25 years of experience hauling hazmat. She was inspired to be a driver because her father was an excellent driver, hauling doubles and triples in the Northwest for 42 years. She said that she is the oldest of five girls, and two of them are drivers because of their admiration for their father.
What does she love about being a Pilot driver?
Celesta says that she enjoys hauling fuel for the Pilot Flying J brand – she loves our travel centers because they are always nice, clean, and have everything drivers could need.  She really appreciates her team members and likes the teamwork, complimenting that her "dispatchers are the best" as they are supportive and helpful with any questions or problems. Celesta says, "I can't imagine doing what they do. They are what drive us to have successful deliveries."
Celesta says that this job allows her to support herself, her lifestyle, and her dreams. She lost her husband a few years ago and never thought she would end up in Texas. Now she has a ranch called Branding Iron with chickens, ducks, and goats. She is the proud mother of four children and three stepchildren, and she has 11 grandchildren and one great-grandson. Since her children are all grown, Celesta loves taking care of her animals and appreciates that her job supports her dreams.
Her advice to other drivers?
"Always keep your belt clean and keep your mind about you." Celesta shared that her father always told her to focus on those two things and to also be courteous and aware while on the road. "Respect what you're hauling because it's dangerous," she says, adding that she prays every morning before getting on the road – for those around her and that she returns safely.
To her fellow drivers, she says, "thank you for giving support and encouragement, being there for each other, and doing a great job in a difficult industry."
---
Rick Moorehead
Rick Moorehead operates as a lead driver out of Columbus, Ohio and has been with Pilot for almost 20 years. He says, "it's been my favorite job I've ever had in my lifetime besides serving in the military."
What does he love about being a Pilot driver?
"Number one is that it gives me the freedom to have a family life since I have a set schedule and know when I am working. Number two, I feel like I am accomplishing something here and I always strive to leave places better than when I started."
Rick says, "Everybody I have in place on my team does a great job, and I have met so many great people here over the years that it would be impossible for me to talk about every single one of them."
His advice to other drivers?
"Treat people like you want to be treated, and make sure you are happy where you are, because if you aren't happy, nothing will work out." Rick says that he always thinks of this motto: "It's not important what you do when people are watching, it's important what you do when they aren't watching."
To his fellow drivers, he says, "After all the years I have spent driving trucks, I really have run into a lot of great people in my career that are truck drivers – and I have a lot of fond of memories."
---
Marty Dodge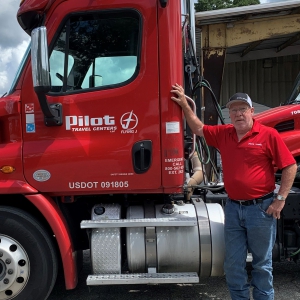 Marty Dodge is the lead driver for the North Augusta/South Carolina area, and he has been driving for 37 years, with the last 16 years being at Pilot. He says that being a driver always impressed him, and it is something he has wanted to do since he was a little kid.
What does he love about being a Pilot driver?
Marty enjoys working at Pilot because of the steady work, great people, and the solid foundation. He really enjoys his co-workers because he can always call them for help – from his region manager to the maintenance team to the dispatch crew.
His advice to other drivers?
Marty's advice for other drivers is to stay focused. He says, "This is a very dangerous job, and you have to stay focused even if you're running late. Just do one thing at a time and as long as you pay attention, you'll be fine. Don't try to make up time or lose focus, just set a pace and do the job right."
To his fellow drivers, he says, "Thanks for all you do. Continue to focus on teamwork and learn from mistakes."
---
From all of us here at Pilot, THANK YOU, to all our Pilot drivers for all you do for our company, one another, and our guests across North America. And thank you to ALL the pro drivers out there. We appreciate you!