Giving back is an important part of our culture, particularly when it comes to supporting the military and veterans. As a veteran-founded company and a proud employer of service members, it was a true privilege to be a sponsor and participant at this year's Medal of Honor Society annual convention, which was held near our headquarters in Knoxville, TN.
Launched by President Abraham Lincoln in 1861, the Medal of Honor is our country's highest and rarest recognition of the great sacrifices made by individuals protecting the red, white, and blue. It's given to those in the U.S. army who have exemplified "conspicuous gallantry and intrepidity at the risk of their lives above and beyond the call of duty while engaged in an action against the enemy of the United States." So far, there have been 3,511 Medal of Honor recipients.
This year, 35 living Medal of Honor recipients came to Knoxville for a week full of festivities focused on reuniting and honoring recipients and their families while educating the next generation.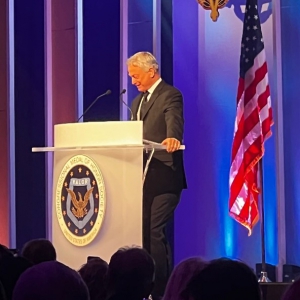 One of the Medal of Honor recipients, Leroy Petry shared with the Knox News Sentinel "I hope that people who are able to engage with these recipients realize we're no different than anyone else. That every one of us is capable of amazing things… What this medal represents to me is all those who have served or are serving, and those that paid the ultimate sacrifice."
A few of our team members, including several veterans, had the incredible opportunity to attend the Patriot Awards Gala at the Knoxville Convention Center for a final celebration to honor the recipients and recognize influential leaders for their support of the Medal of Honor and military. Attendees had the pleasure of hearing from keynote speakers including Gary Sinise, Top-Gun star Glen Powell ("Hangman"), Ambassador Nikki Haley, NBC News Correspondent Courtney Kube, and Dr. Timothy Miller.
"This was a pretty remarkable event — Some of our nation's greatest past heroes and many of our nation's current heroes were all together in the same room. It was a great event for Knoxville to host and for our company to support." – Brian Ferguson, chief merchant of Pilot Company.
We're looking forward to continuing to support our military through more giving back initiatives this fall. To see our history of giving back as a company, click here.